Welcome to Café KIV, a place to meet with other parents and post comments on any topic you wish. Discuss movies you've seen, places you've been, or even your best method of taking time from the kids.



Note:

Unless you are a KIV paid advertiser, business advertising is not permitted in this forum. For business advertising click

Moderators: Brenda N, Sue, kattnipp, Glowingtouch, Annikki
I was hoping for some help/input on great places for a Staff Christmas Party!
A few people have been put on the task of coming up with a couple places that might be good for a Staff Christmas Party this year. I don't really know where to begin, I thought maybe you all might have some helpful answers for me!!
Been anywhere for a group event for dinner that was really good>?
Any suggestions of places that might host a group dinner>?
Thanks!!
KI(vic) Member

Posts: 543
Joined: Fri Oct 12, 2007 10:09 am
---
We've had my dh's Xmas party at the Fireside Grill for the last two years and it's been great. Lots of room to mingle over drinks before we sit down for dinner.
KI(vic) Member

Posts: 4665
Joined: Wed Jan 11, 2006 3:20 pm
Location: Saanich
Region:
---
I just hosted my parents 50th wedding anniversary party at the Canadian Forces Sailing Association clubhouse/marina, and it was a great place for a party!
http://www.cfsa.shawbiz.ca/
Very inexpensive to rent, can rent the linens from them, they have a bartender (or two) for an hourly rate, a dance floor, a deck, very reasonably prices drinks, etc...
Only thing is you'd have to have it catered - there is a kitchen though.
HTH......CharleneK
Do you need a special gift for someone special?
I can custom design & fabricate just about anything!
Go to:
http://www.ck-glassworks.com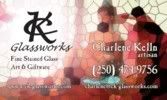 KIV Advertiser

Posts: 6441
Joined: Sat Jan 15, 2005 10:59 am
Location: Langford
Region:
---
Butchart's is a good place for staff Christmas parties if you have the budget. You do have to pay admission but that will allow the group to see the lights which are awesome. You can arrange to go skating on their outdoor rink (again, that will cost you) and then have dinner in one of their restaurants (their group menus are on their website).
Sara
KI(vic) Member

Posts: 503
Joined: Sat Jan 15, 2005 10:10 pm
Location: Sidney
Region:
---
We had a lovely meal ( a late lunch) at Olympic View Golf Course last year and were so impressed that it was rebooked at that time for this year. When I worked in town, the company I was with favoured the Hotel Grand Pacific and there was entertainment too.
Have to admit, good food and socializing with colleagues is just fine with me!
MMmmmmmmm,,,,foooooooooooood
!
KI(vic) Member

Posts: 47
Joined: Sun Aug 17, 2008 11:43 am
Location: Rural West Shore
Region:
---
If you are looking for something different, I believe you can rent out the "Old Town" at the Museum.
KI(vic) Member

Posts: 1537
Joined: Thu Apr 26, 2007 12:49 pm
---
Moxies downtown! I booked our law firm in there every year for 3 years and we loved it. There is a little private room up top you can book. Reasonably priced, good food, good drinks, good service. We never had any complaints (and it was an office full of lawyers, so thats pretty good).
KI(vic) Member

Posts: 703
Joined: Sun Feb 25, 2007 9:45 pm
Location: Victoria, BC
Region:
---
Thanks for the help everyone!!
That gives me a place to start.
KI(vic) Member

Posts: 543
Joined: Fri Oct 12, 2007 10:09 am
---
The first year we went to DH's office party they had it at The Olde English Inn over on Lampson (this was after it had been renovated and everything).
They booked the 'Anne Hathaways' cottage and we had the whole place to spread out in--a lounge on one end for drinks, a small room where the buffet was laid out for supper, a bar, and then down a few steps, the largest room where all the tables were set up for supper. With spouses I think that there were between 30 and 40 people that year and we weren't too cramped. The food was brought in by the Rosmeade restaurant over in the main house and it was awesome! None of the other parties we've had since then even come close to that one.
For my Christmas party we went to Vista 18 several years in a row and really enjoyed the food and ambiance there (we had one so-so year out of the four that we went there maybe).
KI(vic) Member

Posts: 1358
Joined: Wed Jan 19, 2005 8:31 pm
Location: In my home by the bay :)
Region:
---
---
Users browsing this forum: No registered users and 15 guests