You guessed it, this is a forum all about books. What you're reading now, which ones you like, which ones you don't, and anything else to do with books.

Moderators: Sue, kattnipp, Glowingtouch, Annikki
I just finished
The Gargoyle
and absolutely LOVED it! Thought I'd pass the recommendation along.
KI(vic) Member

Posts: 5
Joined: Mon Sep 24, 2007 8:03 am
---
I agree, I
loved
it too! Found it fascinating!
Do you need a special gift for someone special?
I can custom design & fabricate just about anything!
Go to:
http://www.ck-glassworks.com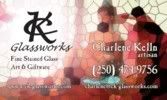 KIV Advertiser

Posts: 6441
Joined: Sat Jan 15, 2005 10:59 am
Location: Langford
Region:
---
---
Users browsing this forum: No registered users and 1 guest