Welcome to Café KIV, a place to meet with other parents and post comments on any topic you wish. Discuss movies you've seen, places you've been, or even your best method of taking time from the kids.



Note:

Unless you are a KIV paid advertiser, business advertising is not permitted in this forum. For business advertising click

Moderators: Brenda N, Sue, kattnipp, Glowingtouch, Annikki
I know we hear in the media all the time about the economic situation etc...but I'm wondering if anyone here has personal experience regarding the current job market in Victoria. Is it a tough one? Much more than three or four years ago? My husband has been looking for a new job for 9 months! He works in upper management in the hospitality industry. He is finding nothing! He has a good resume, good references, all the rest...I'm wondering if there are fewer jobs and more people applying for them? Again, I know we're hearing that's the case statistically but I guess I'm just wondering if anyone else here is coming up against the same thing, and I'm looking for encouragement...
I can't believe it's been 9 months and he hasn't found anything...I need someone to tell me that eventually he will. Right now I'm getting really scared that he'll just never go back to work.
KI(vic) Member

Posts: 841
Joined: Sun Jun 07, 2009 5:50 am
---
I think it is a tougher job market - tourism is down and many Provincial employees have been laid off also. I have a friend who has been looking for work for almost a year
I know that isn't any help, just wanted to say that I do see it also.
I have opinions of my own - strong opinions - but I don't always agree with them
- George Bush
KI(vic) Member

Posts: 3921
Joined: Tue Apr 10, 2007 2:34 pm
Location: Saanich
Region:
---
I've definitely been feeling it. I worked in a specific area within the public sector for many years and left in 2007 to work as a contractor in that same area. For the first year and a half my business was amazing (all of my business so far has come through the public sector - mostly the provincial government) but I haven't worked since Jan 2009 except for one small government contract. Noone is hiring service contractors right now.
I recently applied for a Request for Qualifications and as a successful applicant for this RFQ my business was added to a list of suppliers for a certain ministry for my area of expertise - it's valid for 3 years so hopefully something comes of that, though who know when. So I can definitely sympathize with you and your husband. Very tough market right now for lots of people. I'm just so thankful my husband has a great job with excellent benefits. I don't know how self-employed sole providers are doing it right now.
"The moment a child is born, the mother is also born. She never existed before. The woman existed, but the mother, never. A mother is something absolutely new."
KI(vic) Member

Posts: 7842
Joined: Fri Jan 14, 2005 10:55 pm
Location: Duncan
Region:
---
I know exactly what you going through. My husband has been out of work for 10 months. I am so scared that he will never find a job. He keeps applying for jobs, but nobody ever calls. I'm afraid his self esteem is next to nothing now. Everyone around us keeps telling us how many jobs are out there because they see lots of job postings. The problem with these jobs is that they only pay between $8 - $10/hour and I'm sorry, but we've got mortgage and car payments and that wage doesn't cut it. I personally think that employers are using the "economic situaton" to literally screw their employees out of a decent wage.
KI(vic) Member

Posts: 564
Joined: Tue Oct 10, 2006 6:47 am
---
it's a tough market out there but there are jobs if you're willing to take them. Upper management may be trickier to get into. Those that have jobs are hanging onto them and not leaving. I work in a gift shop at Ogden Point (where the cruise ships come in) and business is booming. In this market, sometimes it's better to create your own job rather than wait for the right job to come your way. I have found, in my own personal job search, that businesses are preferring to hire younger people because they don't have to pay them as much and they're gaining experience. Those of us who are 'seasoned professionals' are finding it much tougher out there. He might have to take something that isn't upper management for awhile just to get a foot in the door and then go from there. Don't give up though - the right job is out there somewhere just waiting for him.
KI(vic) Member

Posts: 2583
Joined: Mon Jul 09, 2007 6:19 pm
---
Thank you to everyone for your responses...it at least makes me feel better to know we're not alone! As for taking jobs that are a bit of a step down, he has applied for many of those and not received any calls. I am just hoping it improves soon, we've already decided to cut my maternity leave short (yes, did I mention he lost his job two months before our second baby was born? Bad timing...) so I'm going back to work pretty soon. Anyway...if anyone hears of any management positions in hospitality/restaurant anything like that I would love a heads-up!
KI(vic) Member

Posts: 841
Joined: Sun Jun 07, 2009 5:50 am
---
Yes, it is tough. I have worked in offices for a few years, large companies, decent wage for my education level...then after my mat leave with #2 was up...jobs were NOWHERE to be found. All I could find were $8/hr jobs...and nobody even called me back. When I did get a call, I was told I was 'barking up the wrong tree' because I was overqualified
Finally I had to bite the bullet and take a pizza delivery job. Sounds pretty low, but I am making on average $15-$20/hr ($15 on a SLOW night...well ove $20 on a weekend) ...maybe he could try something where he gets tips???
I know it sounds like a HUGE step down, but sometimes we just dont have a choice. I totally get that youve got car payments and a mortgage, I was in the same boat. Even now when people ask where Im working, and I tell them often they are shocked and feel sorry for me to be making $9/hr, but they dont realise that Im working half as many hours, and making MORE than I was working full time.
I do feel for you, but just remember...this too shall pass.
KI(vic) Member

Posts: 841
Joined: Thu Aug 06, 2009 6:48 pm
---
My DH went through the same thing after retiring from the Military after 21 years of service. He couldn't get a job for over a year after doing 3 years at Camosun College.
Finally he decided to become a Commissionaire, as they are
always
looking for people
Yes, you only start out at about $12 an hour, but my DH managed to get a more-qualified position within the first 6 months, and he makes about $16.50 an hour now. HTH.
Do you need a special gift for someone special?
I can custom design & fabricate just about anything!
Go to:
http://www.ck-glassworks.com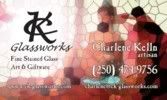 KIV Advertiser

Posts: 6442
Joined: Sat Jan 15, 2005 10:59 am
Location: Langford
Region:
---
There is also Western Union (formerly Custom House) who seem to be hiring and also I have noticed the Money Mart Head Office seems to be hiring (or they were a few weeks ago). Here is a link I just found:
http://www.indeed.ca/jobs-in-Victoria,-BC
KI(vic) Member

Posts: 37
Joined: Tue Mar 09, 2010 2:04 pm
---
---
Users browsing this forum: Bing [Bot], Google [Bot] and 13 guests