Welcome to Café KIV, a place to meet with other parents and post comments on any topic you wish. Discuss movies you've seen, places you've been, or even your best method of taking time from the kids.



Note:

Unless you are a KIV paid advertiser, business advertising is not permitted in this forum. For business advertising click

Moderators: Brenda N, Sue, kattnipp, Glowingtouch, Annikki
Our paediatric dentist want to put our 4 year old under general anaesthesia to have a filling done because our 4 year old won't cooperate and sit still. Has anyone else had this done? Is there any other option? This seems so drastic to me.
The user formerly known as Joms Mom
___________________

Posts: 1223
Joined: Mon Jan 24, 2005 1:53 pm
Location: Cordova Bay
Region:
---
Our dentist gave DD sedation for some fillings when she was little. It was all done at the dentist office. She was sleepy after, so we had to stay in the room with her until she was able to walk properly.

Did they say general anaesthesia, specifically? Perhaps they meant sedation?

Not sure what other options there are.
KI(vic) Member

Posts: 2096
Joined: Sun Apr 10, 2005 3:25 pm
Location: Gordon head
Region:
---
Have they tried gas? My dd sees Dr. Rao and for her filling they used gas and numbed the gums with some kind of gauze.
KI(vic) Member

Posts: 4666
Joined: Wed Jan 11, 2006 3:20 pm
Location: Saanich
Region:
---
I was put under for a filling when I was just under 4. I was obviously too young to be able to tell you how it went, but almost 30 years ago they did it......I can't imagine my 4 year old managing to sit through a filling. And if they need to be done, they need to be done.....
KI(vic) Member

Posts: 983
Joined: Sat Jan 15, 2005 7:45 am
Location: Marigold Area
Region:
---
My DD had this done last year, she was 7.5 years old at the time.
She too wouldn't even take the 'sleepy medicine' they tried in the office (sedation), but that's only because she is extremely strong-willed when it comes to anything going into her mouth (whether it be food or medicine
Not sure if that 'sedation' would have made her more co-operative or not (Seems to work on other kids I saw there, like they were slightly intoxicated
I would like to suggest the laughing gas next time if it is an option, as the general anesthetic was not good for us. (it took 4 of us to hold her down to get her to swallow the sleepy medicine before you go into the operating room, and she choked on the first batch, so we had to calm her down & do it again, was NOT fun!
). She was very agitated and combative when she woke up from the anesthetic and the nurse we had was not very understanding or informative, so all in all, not a good experience!
The only positive was that now DD knows there is a 'hard way' to do things and an 'easy way', so hopefully she will opt for the easy way next time & be co-operative!
Definite anxiety issues, sigh.
Sorry, don't mean to scare you, but this was our experience, so unless your child has anxiety & control issues like ours seems to, it should go just fine.
Do you need a special gift for someone special?
I can custom design & fabricate just about anything!
Go to:
http://www.ck-glassworks.com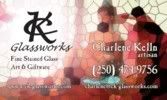 KIV Advertiser

Posts: 6442
Joined: Sat Jan 15, 2005 10:59 am
Location: Langford
Region:
---
I've worked with a dentist who used to work on handicapped people as well as children in the hospital under general anesthetic. It's more worrisome for the parent but all right for the child. As a parent, you can stay with your child until they fall asleep. They give them some gas to breathe first to make them sleep. If it's only one filling, she won't be asleep for very long - it will only take a few minutes. It's easier on the child and easier on the dentist this way, especially if she won't sit in a dental chair or take the sedative offered. FYI, if it's only one filling, it'll only take about 10 minutes to do under general anesthetic. He'll probably polish her teeth while she's under too - another 5 minutes.
KI(vic) Member

Posts: 2583
Joined: Mon Jul 09, 2007 6:19 pm
---
Our (pediatric) dentist also wanted to do this for our dd filling(s) 2 of them.
I said I wasn't comfortable and was there anything else we could try first. ie sedation in the clinic, meaning laughing gas. He gave her pills for at home (Valium I think) and then gas once we got there, and she was very drugged, but it all worked out well. If I didn't tell him I wasn't comfortable with a general anesthetic that was going to be the treatment of (his) choice. I have the highest regard for this dentist, he's amazing. But am so glad I said no.
HTH
KI(vic) Member

Posts: 694
Joined: Thu Sep 01, 2005 7:55 pm
Location: Saanich
Region:
---
I talked to the Ped dentist again today. It seems we really have no other choice. My ds won't even get in the chair willingly so sedation outside of the hospital will not work on him. The decay is in a molar and it will be around for a while and it's already hurting him so...we feel like our hands are tied. I hate to think of my poor little man under general..
The user formerly known as Joms Mom
___________________

Posts: 1223
Joined: Mon Jan 24, 2005 1:53 pm
Location: Cordova Bay
Region:
---
My daughter has had this done twice, and I was worried sick each time. But all in all it went really well, she was not at all upset to be in the hospital, the nurses were great and kind to both of us, the dentist did an amazing thorough job. It had to be done, and she immediately had very little memory of either time. She did not wake up very well from the anaesthetic, and was crying and very upset, but once she came all the way out of it, she did not remember and wanted to go outside and play later that afternoon.
KI(vic) Member

Posts: 92
Joined: Sat May 28, 2005 8:54 pm
---
My dd had this done this past summer, she is 5. Our ped. dentist is Dr. Rao. The experience overall was fine, as another poster stated it is harder on the parents then the child. She had a bit of anxiety and from what the nurse said afterwards it is normal for them to be aggitated or combative when they wake up.
KI(vic) Member

Posts: 140
Joined: Sun Sep 21, 2008 5:30 pm
---
it's definately worrying having a child undergo general anesthetic, but the dentists do many children this way - it's quicker, easier on the child (not on the parents), and they have no memory of a bad experience in a dental office. For a molar tooth, you want it filled asap especially if it's starting to hurt. Just remember, your child is in good hands and you can stay with them until they fall asleep and once they leave the OR, you can go with them to the recovery area too. The hospital and nurses are very sympathetic to worried parents.
KI(vic) Member

Posts: 2583
Joined: Mon Jul 09, 2007 6:19 pm
---
WOW ~ the last two dentists we've had (different communities) have used NO FREEZING for fillings on the kids pre-school aged... and it was GREAT. Again, I was the worried one (I'm not a fan of dentists), but for the kids it was great!!!! And they ALL love going still.....

Good luck ~ I guess we have to trust that our dentist (as we do our other health care professionals) know what is best for our most precious children.....
KI(vic) Member

Posts: 1109
Joined: Wed Jan 19, 2005 5:55 pm
Location: Comox Valley
Region:
---
---
Users browsing this forum: Google [Bot] and 11 guests