Welcome to Café KIV, a place to meet with other parents and post comments on any topic you wish. Discuss movies you've seen, places you've been, or even your best method of taking time from the kids.



Note:

Unless you are a KIV paid advertiser, business advertising is not permitted in this forum. For business advertising click

Moderators: Brenda N, Sue, kattnipp, Glowingtouch, Annikki
Last edited by
wee_opal
on Fri Jan 04, 2013 9:15 am, edited 1 time in total.
KI(vic) Member

Posts: 419
Joined: Sun Aug 17, 2008 2:12 pm
---
Buy a bottle of
Spider Ban
from
Canadian Tire
and spray all the outside door jambs, windowsills, anywhere they might be coming in from!
I do this all the time as I too am petrified of spiders.
Do you need a special gift for someone special?
I can custom design & fabricate just about anything!
Go to:
http://www.ck-glassworks.com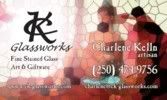 KIV Advertiser

Posts: 6440
Joined: Sat Jan 15, 2005 10:59 am
Location: Langford
Region:
---
the brown recluse spider?
When we stayed in my grammas basement there was an excessive amount of these. I bought a box of bounce sheets..spiders HATE the smell, and they went into hiding and we didnt see any after that..Keep in mind we had A TON of bounce sheets scattered and placed all around the basement..its smelled purrdy
___________________

Posts: 4640
Joined: Tue Jul 04, 2006 12:33 pm
---
The chestnuts dry up over the year and stop being effective. They should be falling again soon.
KI(vic) Member

Posts: 410
Joined: Wed Aug 12, 2009 9:42 am
---
We made up a spray of lemon essential oil and water and a bit of soap to emulsify and sprayed it everywhere!
Seems to not have been a problem after that and also smelled purdy..
KI(vic) Member

Posts: 447
Joined: Wed Feb 09, 2005 5:40 pm
Location: anywhere
Region:
---
---
Users browsing this forum: No registered users and 9 guests