You guessed it, this is a forum all about books. What you're reading now, which ones you like, which ones you don't, and anything else to do with books.

Moderators: Sue, kattnipp, Glowingtouch, Annikki
I want to say that I heard about it on CBC because it was nominated in this year's book awards, or something?

Regardless, it appealed to my love for true biographies of the lives people have lived through and survived.

It was amazing - highly recommend it!
"We do the best we can with what we
know, and when we know better, we do better."
Maya Angelou
___________________

Posts: 7679
Joined: Sat Jan 15, 2005 4:55 pm
Location: North Nanaimo - come and visit :)
Region:
---
Have you read:
La Prisonniere – by Malika Oufkir - another very interesting read!
Do you need a special gift for someone special?
I can custom design & fabricate just about anything!
Go to:
http://www.ck-glassworks.com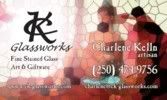 KIV Advertiser

Posts: 6448
Joined: Sat Jan 15, 2005 10:59 am
Location: Langford
Region:
---
---
Users browsing this forum: No registered users and 0 guests